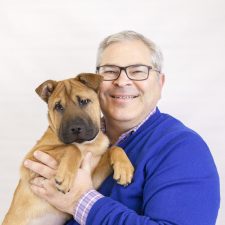 Berkeley-East Bay Humane Society is one of the oldest and most trusted animal welfare organizations in the country. As Executive Director, Jeffrey works tirelessly to continue and grow this legacy. In a short amount of time, he has assembled a talented and dedicated team of volunteers and employees who focus their energy on providing outstanding care to the people and pets. Together, with our Leadership Team and Board of Directors, we are making a significant and meaningful impact on the dogs and cats throughout the East Bay. Before joining Berkeley Humane, Jeffrey served for many years as the Chief Operating Officer for the American Red Cross Bay Area, which encompassed emergency, programmatic and fundraising operations in a 6 county jurisdiction. In addition to his work at the American Red Cross, Jeffrey's background includes board development, volunteer recruitment, community organizing, and fundraising for the March of Dimes, and the American Heart Association. Jeffrey also currently serves as a member of the Berkeley Chamber of Commerce Board of Directors. Jeffrey likes to say that he now has the best job in the world—and we agree with him!
Want to reach Jeffrey with your feedback? Send him a message.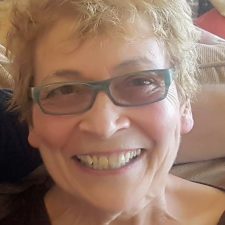 Director of Finance & Human Resources
Ellen began her journey with Berkeley Humane years ago as a volunteer and is now the Director of Finance and Human Resources. She has worked in non-profit organizations for most of her career, most recently as Director of Finance at the Women's Foundation of California. Ellen has always chosen to work for organizations where she feels passionate about the mission, but coming to Berkeley Humane is her dream job. She holds an MBA from Simmons Graduate School of Management in Boston. When not working, Ellen enjoys exploring the area with her dog, Sami.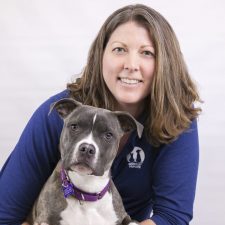 Kristen joined Berkeley Humane as the Director of Operations in 2015.  She has over 20 years of experience in animal welfare and a strong commitment to the Bay Area community, where she has lived her entire life. Prior to joining Berkeley Humane, she spent four years as the Division Manager of the animal shelter for the County of Napa and nearly 10 years at the Marin Humane Society in a variety of roles with increasing responsibility. Kristen has a strong focus on leadership, customer service, and dedication to animals and humane ethics. Kristen enjoys all the wonderful amenities the Bay Area has to offer — from the coast to the mountains — and she currently resides in wine country with her wife Sam, canine companion Dory, and feline friend Bunchy.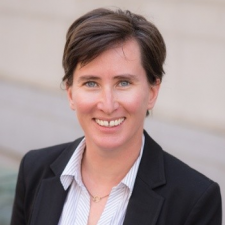 Director of Development & Communications
Morgan has over 15 years of experience in supporting nonprofit organization sustainability, including fundraising, communications, and strategic planning. She has focused on foundation and corporate partnerships, special events, and volunteer engagement, and is thrilled to bring this experience to Berkeley Humane. Previously, she was the Director of Development and External Relations at Pivot Learning, an educational nonprofit, and has also worked at National Academy Foundation, Urban Assembly, and a variety of environmental organizations on the East Coast. Morgan holds a B.A. from Smith College in Northampton, MA. She lives in Oakland with her family, including two cats, Galileo and Guenevere.
Daniel is a business executive/entrepreneur in the areas of Human Capital Management (HCM), Business Process Outsourcing (BPO), Human Resources Outsourcing (HRO) and risk management. He currently serves as the CEO of Centricity Solutions, Inc., an HRO firm he co-founded in 2007. Centricity helps small and mid-sized companies (from pre-revenue to +$500M) control costs, minimize risk and relieve administrative burden by expertly managing each key aspect of the human resources lifecycle – including hiring, payroll, benefits, compliance and termination – through customized enterprise-level technologies and a high-touch service model. Daniel obtained his Bachelors of Arts in Political Science from The University of Iowa. He is a certified Senior Professional in Human Resources (SPHR) and SHRM Senior Certified Professional (SHRM-SCP), as well as a multi-state licensed insurance broker. Daniel lives in Moraga, California with his partner Jennifer, sons Evan & Jack, and their four-legged family members – including puppy Riley and feline sisters Cali & Lulubelle.
Alan G. Shriro, DVM - Vice President
Alan has been on Berkeley Humane's Board of Directors since 1997, and served as president for most of his tenure. He believes in serving our community's animals and helping to save lives. Alan has co-owned Berkeley Dog and Cat Hospital for 42 years. He served as President and as the Peer Review and Ethics Chairman of the Alameda County Veterinary Medical Association. Dr. Shriro currently chairs the City of Berkeley Animal Care Commission. When not working at the Berkeley Dog and Cat Hospital, Alan loves to scuba dive and travel the world. He is an award-winning photographer and is the proud guardian of two dogs and two cats.
Romy joined Berkeley Humane's Board of Directors in 2014. A Product Operations Manager at Workday, Romy brings 15 years of professional organizational skill to her role as Director. Her background includes many years as a canine volunteer and dog training assistant at Berkeley Humane, giving her valuable insight into the organization. A lifelong animal lover, she has lived with cats, dogs, fish, birds, lizards, and turtles, though she now focuses her attention on her three wonderful cats: Pepe, Rocky, and Bucci.
Mike Laughlin - Treasurer
Mike Laughlin is a Portfolio Consultant with BlackRock in San Francisco. Mike is responsible for multi-asset class, multi-structure portfolio construction and detailed risk analysis partnering with wealth managers across the country. Mike has been a Bay Area resident since 2013 and is originally from New Jersey. Growing up, the first thing he wanted to be was a veterinarian. While his professional career took a different path, he has always loved animals. He's had a guinea pig, turtle, fish, hamster, and beloved beagle rescue named Homer. Mike received a bachelor's degree in Management form Gettysburg College. He is also a CFA Charterholder. His fiancé and he are both dog lovers and plan on adopting a rescue once they purchase a home.
Jason Abrams is a Partnership Territory Director at Lyra Health. Jason leads a team at Lyra Health that helps bring Lyra's mental health offering to the market. Before Lyra Health, Jason was a Sales Leader at LinkedIn for 7 years and has been in sales leadership in the technology industry for 15 years. Jason earned his bachelor's degree from Georgetown University in History and played on their Div 1 football team all 4 years. Jason's devotion to animals has been a lifelong passion — his aunt runs a dog rescue in Louisiana and he fostered pit bulls while living in New York. He currently resides in Pleasant Hill and enjoys hiking, yoga, and spending time with his wife (Yvette), daughter (Isabel) and two rescue cats (Tyson and Romeo).
Trisha is a senior leader at Adobe Systems, with over twenty years of experience including retained and internal executive search, executive coaching, corporate recruiting, and professional services. She is currently responsible for leading the Global Executive Search function, and Talent Acquisition for Adobe's Digital Experience and Worldwide Field Operations (sales) business units. Trisha is a results-oriented leader with a track record of delivering an exceptional client experience and developing talent. Trisha graduated from Northwestern University, and also is a Certified Executive Coach through the University of California, Berkeley. Since her early days as child, she has been a lifelong animal lover.  
Debra Crow is the former Vice President and Treasurer of Yahoo Inc. where she led the global team responsible for investments, capital markets, cash management, foreign exchange, and insurance. Prior to Yahoo, Debra spent 10 years working in consulting as a Principal at EY, based in San Francisco. She earned her MBA from St. Mary's College of California and her B.S. in Economics from the University of San Francisco. Debra divides her time between Alameda and St. Helena where she also volunteers as the Treasurer and Board member of Cinema Napa Valley (Napa Valley Film Festival). In her spare time, she is checking off all the destinations on the travel bucket list and hiking the dog-friendly parks in the Bay Area with a goofy Golden Retriever named Molly.
Heidi is a successful business owner and entrepreneur who, in 2003, founded Holistic Hound, one of the first holistic pet stores in the Bay Area. For over 16 years it was Berkeley's favorite local independent pet store for quality food, unique products, and resources so pets can have the best quality of life. The store was recently sold but Holistic Hound lives on in her other business manufacturing and selling a line of CBD, CBG and medicinal mushroom supplements for dogs and cats, helping more animals thrive nationwide. Heidi also has her hands full with her adopted rescue Husky who has lots of love and a big personality, a sassy cat, and four chickens! 
Shawna has two great passions; children and pets. She has been a long-time animal advocate. Shawna is the Global Head of Talent Development at 2K. Shas spent 25 years in the technology industry in talent/organizational development and sales management. Shawna also serves on the board of George Mark Children's House and is passionately involved in their mission to provide life-affirming Palliative care and comfort for children and their families. She lives in Piedmont with her dog Sasha.
Rachel is a Senior Marketing Manager on the Global Event Marketing team at LinkedIn. She is responsible for bringing the LinkedIn Talent Solutions business to market through events and experiential activations. Rachel received her B.S. from New York University and previously held marketing positions at MuleSoft, Splash and Nielsen. Originally from the East Coast, Rachel has a strong connection to the Bay Area, where her mother and maternal grandparents were born and raised. She lives in San Francisco with two humans and one adorable canine named Roo. Rachel loves exploring the parks in and around the Bay, indoor rock climbing, and dabbling in creative hobbies like woodworking, stained glass, and jewelry making.
Mareijke is a professional Realtor in the Greater East Bay region. Mareijke is a former Global Controller for Method Products, a B-Corp, and Del Monte Foods and a CPA by training. Prior to entering the real estate industry, she spent two decades in Finance and Accounting, working across multiple industries and company growth stages, where developed a proven track record for driving efficiencies in the areas of accounting, financing, planning, internal controls process implementation, compliance, business acquisitions, change management initiatives, and technology implementations.
Mareijke is passionate about serving the needs of her clients, and is known for collaboration across all organizational levels and various interests. She brings a high level of energy toward solving challenges together, by applying analytical approaches and exercising a seasoned business understanding. She is married to her husband Craig, and loves her dog, Shadow, a sassy little black miniature poodle. She enjoys skiing, mountain biking and volunteering at her church in her spare time.
Elizabeth Zaborowska is the founder and CEO of Bhava Communications. She started the award-winning public relations and marketing agency in 2009 to bring brilliant communications professionals together with the most promising up-and-coming and established tech companies. She has worked with data-related technologies, enterprise and consumer technology companies, nonprofit organizations, and companies across industries including food and hospitality, fashion, transportation, health and wellness, education and the arts. In 2010, Liz adopted a Chihuahua-mix, Bella (originally named Orangina), from Berkeley Humane and has other rescue dogs in her family, shepherd/Shar-Pei mix Ritzi and Jack Russell/Chihuahua mix Mimi.
Love animals? Put your passion for dogs and cats to work at Berkeley Humane.
Berkeley Humane is a 501(c)3 non-profit organization that relies on the public's generosity to sustain our life-saving work.