Adopt a dog or cat from Berkeley Humane!
Adopt a dog or cat and give these shelter animals a second chance. Berkeley Humane believes in an adoption process that carefully matches the lifestyle and expectations of adopters with the needs of each animal to help the pet remain in their new homes for the rest of their lives. 
Come Meet Your New Best Friend!
Berkeley Humane's adoptable animals are ready to meet you! Our dogs and cats are primarily located at our Adoption Center (2700 Ninth St. Berkeley), open to the public for walk-ins several days a week. Please review individual pet profiles for status, location, and other details. 
Meet available animals at the location/address during the adoption hours specified on the animal's profile. No inquiries or appointments necessary, unless specified. First-come, first-served.
Please note—while we make every effort to update our website, availability is not guaranteed.
More Adoption Information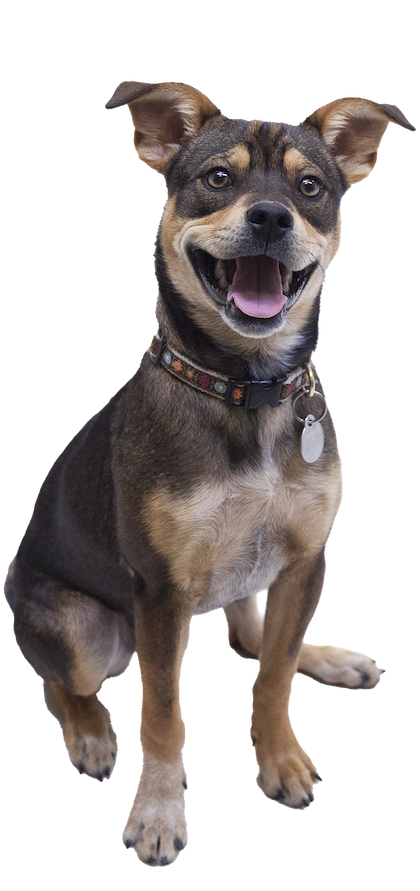 Adoption Requirements
Be at least 18 years old;
Have valid state-issued identification;
Allowed to have a pet where you live (to protect you and your pet, get your landlord's or HOA's permission in writing before you adopt);
Willingness and ability to provide training, medical attention, and proper care for your new pet.
included with adoption
Every animal in our care receives medical and behavior evaluations, vaccines, microchip, spay/neuter surgery, flea, tick and worm treatments, felv/fiv test for cats at the discretion of our veterinarian, or heartworm preventative for dogs.
Our adoption package includes a temporary leash or carrier, $250 worth of medical care with VCA Animal Hospitals, a certificate for a free examination at a local veterinary hospital, optional discounted pet insurance, and a 30% discount on dog training classes through our program Train the Bay.
Adoption Programs & Promotions
When you adopt a dog or a cat from Berkeley Humane, you become a part of our extended family, and our goal is help ensure your success. In addition to the post-adoption resources we provide to our adopters, we also offer pet-related services and helpful tips through our Resource Center.
Berkeley Humane adopters can contact us for behavior or health advice. Call our post-adoption advice line at (510) 845-7735 x204, or submit a contact form.
Please state when you adopted, and describe your pet's challenges in detail. We will get back to you as soon as possible.
If you adopted an animal from Berkeley Humane within the past seven (7) days and have any health concerns about your pet, please contact the Berkeley Humane Veterinary Hospital at 510-845-7735. During this time period, we provide free post-adoption medical care by appointment only for shelter-associated conditions including internal and external parasites, respiratory infections (including kennel cough and feline upper respiratory infection), and incision complications.
Our post-adoption medical care policy does not include routine, preventive care (vaccines, deworming), treatment for post-adoption accidents/injuries, treatment of other pets in the household, or treatment that is outside the capabilities of our basic hospital facility.
Berkeley Humane partners with 19 VCA hospitals to provide care for pets adopted from our organization. Adopters receive up to $250 of care (excluding certain conditions) for up to 14 days from the date of adoption.
Berkeley Humane adopters may also receive one complimentary exam within five (5) days of adoption from local veterinary hospitals listed here.
Dog training classes at Train the Bay are discounted for Berkeley Humane adopters! The discount code is located in your adoption packet.
We are committed to supporting our adopters.
We love to see how our adopted animals are doing! Share your story on social media #berkeleyhumanealumni for a chance to be featured.
Where's the Mobile Adoption Center?
The Mobile Adoption Center (MAC) will be at the Thrift Shop (1120 Solano Ave.) during Solano Stroll on 9/10!