Ever wonder how our pets find their way to adoption through Berkeley Humane?
In a sense, Berkeley Humane's adoptable animals are a special, curated selection of animals that we believe would be a great fit in the right home. We focus our attention on relieving overcrowding at other shelters in Alameda and Contra Costa counties. Each week Berkeley Humane staff collaborates with these shelters in a process called "intake" to identify adoptable pets as well as injured animals who might thrive under our excellent medical care.
1. Intake step one is to visit a partner shelter.
There, we discuss how Berkeley Humane can help them with potential overcrowding and whether any of their animals would be a good fit for us. Occasionally a Berkeley Humane veterinarian offers expert medical advice to help us determine which animals might benefit from our excellent on-site vet care — for instance, our new radiograph helps us diagnose injuries that other shelters might not be equipped to discover.
2. Step two is the all-important evaluation process.
Every animal at Berkeley Humane has passed a behavioral assessment to gauge traits like friendliness to humans, tolerance for being handled, tendency toward overstimulation, general health, and, for dogs, their sociability with other dogs.
3. Step three is transferring the animals to Berkeley Humane.
A great deal of community service and partnership drives our intake process. One of our closest partners is Berkeley Animals Care Services (BACS), located just a mile away from our shelter. Adult animals, whether surrendered or stray, must be held for a while at a public shelter like BACS. After the mandated hold period, Berkeley Humane steps in to help. An exception is made for litters under six months old. Few shelters have the resources and the community support to provide round-the-clock care to underage kittens, for example, so it can benefit the kittens to come directly to Berkeley Humane.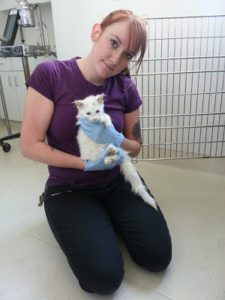 "BACS and the animals it brings in are a huge priority," says Berkeley Humane Pet Program Manager Carly Skonnord. "We both mutually benefit."
On a sunny day in late March, Carly drove to BACS in a roomy van with plenty of space to transport multiple pet carriers. Her goal was to bring back two young cats, including a three-month old kitten with undiagnosed dental/cranial issues. Berkeley Humane's veterinary staff guessed that an infection from a broken jaw might be the culprit. That might be the best case scenario, as kitten bones are still growing at three months and the jaw might heal itself.
"It could be anything at this point and we don't yet know what our treatment options are," said Carly. "There's only so much you can safely do with a kitten's mandible. But our new radiograph machine gives us the best shot at helping her."
This injured kitten (who would get the moniker Tippi later that afternoon) is a perfect example of the community service that Berkeley Humane provides.
"When it comes down to it, we have the technology and resources to give the kitten her best shot," explained Carly. "It's our moral responsibility. With an injury this uncertain, bringing her to Berkeley Humane is best for BACS, best for the kitten, and best for the community."
As Carly carried the kittens through the halls of BACS, staff paused to talk to her. Most expressed joy that Tippi would receive diligent medical attention and get a great shot at a loving home. All of them said goodbye to the kittens. However briefly they may have worked with these animals, they knew and cared about them.
"Staff at BACS is so great to work with," said Carly. "They are so compassionate and professional."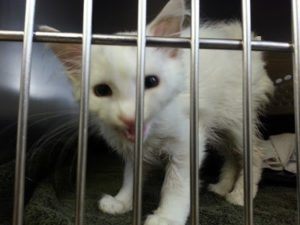 Back at Berkeley Humane, the newly-named Tippi and Chuck settled into new homes. They explored their fresh towels, new toys, and clean litter box. Later that day X-rays would confirm Tippi's broken jaw (not that this stopped the extroverted kitten from meowing for attention from all the vets in the room). Surgery would remove a necrotized bone fragment.
"We wanted her to spend an additional week or two in foster care before putting her up for adoption to make sure she was healing well, and she did great!" said Carly. "She wasn't in as much pain, which allowed her to eat more freely. She put on a lot of weight, which she needed desperately. Now she's nice and plump, and is very playful and cuddly. Basically, she now gets to be a normal, healthy kitten!"
Tippi was deemed ready for adoption — and she went home almost immediately. Read more about Tippi's successful journey to adoption in this East Bay Times story.
In the month Tippi spent in Berkeley Humane's care, she was a perfect illustration of how Berkeley Humane collaborates with the community, provides expert medical care when necessary, and helps pets and adopters find each other.