Superstar volunteer Judy Cohen combines her dedication to animals and decades of administrative experience to support Berkeley Humane's financial and HR office.
Judy retired in 2014 after a long career working for the Peralta Colleges. She began as the financial aid administrator for the old Vista college, spent 22 years as the Financial Aid Supervisor at Laney, and then closed her career in the District Office as Director of Financial Aid for all four colleges.

After such a busy and stimulating work life, Judy knew that she wanted to keep active in retirement. In addition to enjoying the outdoors, swimming and hiking, Judy also makes volunteering a regular part of her life. She says: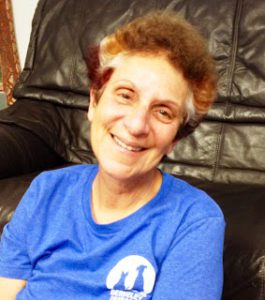 I decided long before retirement that I wanted to volunteer. Knowing how much I love all animals, it was my daughter who suggested Berkeley Humane. I've lived in the Bay Area for over 40 years; familiar with the work of Berkeley Humane, I thought it a great way to help as well as keep myself active and thinking. I attended the orientation and volunteered to be in the administrative offices. I thought so many volunteers would rather work within the shelter, but with my background I could really help the most in the office.
Judy ended up volunteering in Berkeley Humane's finance department, using her decades of experience to file, enter data, and wrangle numbers like a pro.

Berkeley Humane is so grateful for Judy's expert support and cheerful presence. Roxy Rogalski, Berkeley Humane's Accounting and HR Manager, had this to say about Judy's work in the financial office:
Our finance department consists of two employees and Judy! Judy does everything from creating our annual files, boxing everything up, matching reports, inventory… you name it, and Judy does it. She always has a smile on her face, a wonderful sense of humor, and is always willing to step in and go above and beyond.
"I love working for Roxy and Ellen [Monroe, Director of Finance and Human Resources]," Judy continues."And best of all, I get to visit with Ellen's awesome dog, Sami and treat her with carrots."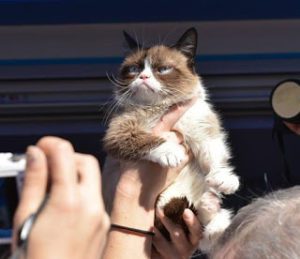 In addition to her regular hours in the financial office, Judy also volunteers at Berkeley Humane special events. One of her favorite experiences has been the Grumpy Cat event in January 2015, when the mobile adoption unit was revealed. "So many pets and children," she recalls: "Grumpy [was] such a rock star."
Grumpy Cat grudgingly receives the adoration of her loyal subjects. For more pictures of the event, visit our Facebook page.
The Mobile Adoption Center (MAC) is a custom-built 26′ RV that allows Berkeley Humane to extend its life-saving mission beyond its brick-and-mortar location.
Judy herself is a devoted cat lover. She looks after three cats: Winnie, a Norwegian Forest cat; Fina, a Maine Coon mix; and Mister, a one-eyed feral male whose friendship Judy has been cultivating for almost eight years.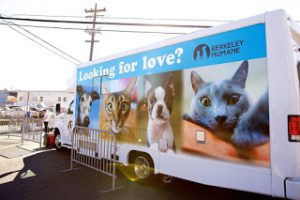 At last, Judy says, "Mister has accepted as his 'human.' He lost sight in his eye about seven years ago after what appeared to be a fight with a raccoon. I fed him antibiotics folded in cream cheese and he recovered. Now we are good friends, but the other females are wary of him. I can pet his head and he even comes into the kitchen in the morning to say hello. He thinks the yard is his private castle."
If Judy wasn't busy enough, she also volunteers at the Albany Senior Center, because "adults need support too!" She is the treasurer of their fundraising unit, the Friends of Albany Seniors, and a member of the "Friends" board. She is also considering taking on yet another volunteer role, perhaps with veterans.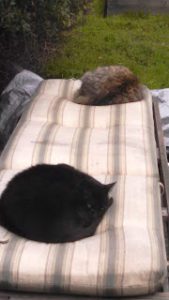 Beyond her volunteer work, Judy says: "I am married to a super man, now together for thirty years, and feel so fortunate to live in such a beautiful area and close to my lovely talented newly married daughter and the best son-in-law on the planet. I walk their dogs."
In closing, Judy had this wise advice for those interested in volunteering: "Wherever you volunteer, make sure it is from your heart."
Thank you Judy, for all of the work that you do at Berkeley Humane and in your community!
If you're feeling inspired by Judy's story, there are plenty of ways for you to get involved. Says Jenn Suzuki, Berkeley Humane's volunteer coordinator:
"Passionate and committed volunteers are vital to our success, and are integrated into every area of our operation. Whether it's walking dogs, cuddling cats, working with data, or chairing an event committee, there are countless ways for volunteers to get involved."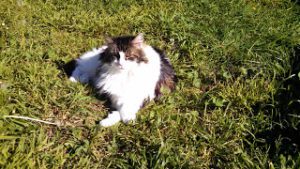 Have a special skill? Lots of love for cats and dogs, and an eagerness to do what you can? Learn more at berkeleyhumane.org/get-involved.